By Ted Whipp, The Windsor Star May 19, 2010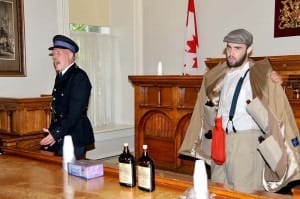 No ordinary sightseeing bus tour, a new venture offers a cast of costumed characters re-enacting Windsor's rip-roaring, rum-running era en route. They aim to entertain, dusting off 1920s history and spinning stories as they hop on and off the tour through Walkerville, Sandwich and Riverside. They tell wild but true tales, dropping names like Al Capone, describing smuggling by the boat and plane loads, and portraying local figures like the temperance leader and gun-toting preacher, the fighting parson Leslie Spracklin.
The Rum Runners Tour is attracting attention beyond its intended audience of out-of-town tourists, said entrepreneur Mark Baker. Local organizations have also shown interest. "People want to learn about history," Baker said of his target market 45 to 65 years old. They already attend concerts and theatre. A play on wheels offers appeal with an entertaining, sightseeing history tour, he explained. Baker, 60, plays the tour's Spracklin character and brings a background suited for his venture with experience in sales and community theatre. For his cast, he's drawing on drama students and veterans of local live theatre. About 30 industry representatives climbed on a Transit Windsor bus for a preview Tuesday afternoon. They liked what they saw and remain eager to promote the Rum Runners Tour to tour operators and convention and corporate event planners. "Anything new to offer locally is refreshing," said Linda Renaud, a regional representative with Ontario's travel information centres. "We can really promote this and pair it with conferences," said Vishal Malhotra, regional director of sales for the Westmont Hospitality Group which includes Hilton, Radisson and Travelodge hotels in downtown Windsor.
The area's tourism promotion organization Tourism Windsor Essex Pelee Island helped organize the preview and introduced Baker to industry representatives. "I think it's one of the pieces of the puzzle for heritage tourism here," said Chris Ryan, CEO of the tourism organization. "They're bringing history to life." The success of such tours as wineries and black history shows the appeal of local sightseeing, let alone a route with smuggling, speakeasies and bootlegging barons' mansions, Ryan and others say. The enthusiastic cast who play the tour characters at stops that include Abars in Riverside and Bedford United Church in Sandwich say they got a kick out of the gig and learned about Windsor's rum-running history. "As a resident of Windsor, I didn't know much about the history," said Ian Bruno, 29. A math tutor involved in community theatre, he plays the tour's know-it-all, Yorkie, a newspaper vendor. "I think Windsor really needs something like this," said Sean Ireland, 34, a medical office manager who's president of Theatre Windsor. He plays the con-artist Benny de Weasel. Baker said he expects to have a website soon and to offer tours within a month.
twhipp@thestar.canwest.com or 519-255-6863